Paul Is Dead Clues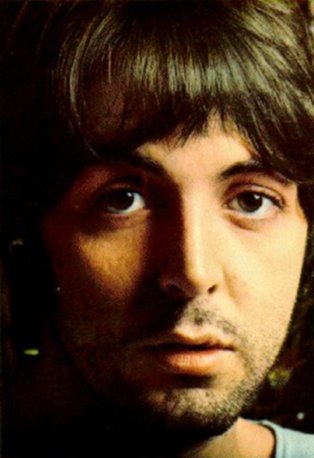 Paul is very much alive, but it's still neat to look back and see all the clues that supposedly proved the theory that Paul had died.
The Story
An American Beatle fan had been spending a lot of time listening to his Beatle albums and searching the covers and booklets. He was looking for support for his theory that Paul McCartney had been killed in a car crash in 1966 and had been replaced by a lookalike, William Campbell, who had once one a McCartney lookalike contest. This man called up a disc jockey at a Detriot radio station, Russ Gibbs, and told him his theory. He said that Sgt. Pepper, Magical Mystery Tour, and The White Album were the way the Beatles were communicating Paul's death to the fans who were clever enough to figure out the clues. Gibbs passed on the news of Paul's "death" and soon the story was out everywhere. People began searching for clues on all the albums back to 1966. They found many clues to support the theory and when Abbey Road came out, even more clues were gathered. Paul McCartney really was in a car accident on November 9, 1966, but it was minor and he wasn't hurt. But there were a lot of clues in the albums and when put together, it created a convincing argument.
Sgt. Pepper's Lonely Hearts Club Band
Front Cover
The people on the cover appear to be mourners at a grave. (Paul's)
The yellow flowers under the word Beatles make the shape of a left handed bass guitar-Paul's instrument. Also, inside the flowers are three sticks that represent bass strings-three sticks because only three Beatles remain.
In the lower right hand corner is a doll holding a small white car with a red interior.
Paul is facing directly foward, but the other Beatles are not. George, John, and Ringo look three dimensional, while Paul looks like a cardboard cutout. Also, Paul is the only one holding a black instrument, black being the color of death.
Behind Paul is a picture of Stephen Crane, author of The Red Badge Of Courage, who died at a young age-28. He is holding his palm above Paul's head. Holding a palm foward is an Eastern symbol of death
On the bass drum there is a line going straight across the middle. The line reads: 1 One 1 X HE DIE. The three ones are for the other Beatles, the X is Paul. In the middle of the words HE DIE is an arrow pointing directly to Paul.

Inside Cover
Paul's left arm has a patch on it which reads O.P.D. (Officially Pronounced Dead). Another interpretation is O.P.P. (Ontario Provincal Police). It is said that William Campbell was a police officer in Canada.

Back Cover

If you have the CD, all this is inside the booklet.
Paul is facing backward, as if he is no longer with us.
The words Without You from Within You Without You are right next to Paul's head.
George's thumb points to the words Wednesday morning at five o clock. Paul's car accident did happen on a Wednesday, and it was around five o clock in the morning.
Paul appears to be taller than the others, but George, Paul and John were all about the same height. This represents Paul rising up to heaven.
The Beatles hands each form a letter that forms the word love-George has L, John has V, and Ringo has E. But the O that should be formed by Paul's hands is missing.
Song Clues
Sgt. Pepper's Lonely Hearts Club Band-"Let me introduce to you, the one and only Billy Shears"- Billy is a nickname for William, they are introducing William Campbell into the Beatles. Billy Shears can also be interpreted as "Billy's here".
She's Leaving Home-"Wednesday morning at five o clock as the day begins"- The day and time of Paul's accident.
Lovely Rita-"When I caught a glimpse of Rita"- It is said that Paul was looking at Rita and he wasn't paying attention to the road.
Good Morning, Good Morning-"Nothing to do to save his life"- Paul couldn't be saved so he died. "People running round it's five o clock"- Another reference to the time of the accident. "Watching the skirts you start to flirt now you're in gear"-Refers to Paul watching Rita and being in gear symbolizes being in the car.
A Day In The Life-"He blew his mind out in a car"- Paul had a car accident and smashed his head open. "He didn't notice that the lights had changed"- Paul wasn't watching the road.
Magical Mystery Tour
Front Cover
There are three white animals and a black walrus. A black walris is a symbol of death in parts of Scandinavia. And as John revealed in the song Glass Onion (see White Album clues), the walrus was Paul.
Booklet
Page 3-Paul is wearing a military uniform, and the sign in front of him on the desk reads "I WaS You".

Page 9-There is a crack in the head of the cartoon of Paul. In the accident, Paul supposedly smashed his head.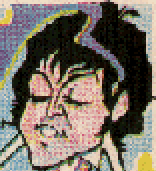 Page 10-Paul is the only Beatle who is barefoot. Corpses are buried without shoes.
Page 13-Paul is barefoot again. The shoes next to him are covered in blood. Also, Ringo's drum reads "Love the three Beatles".

Page 23-Paul is wearing a black carnation, the other Beatles have red carnations.
Pages 7, 14, 15, 18, and 24-Paul has an open palm over his head, an Eastern symbol of death.

Back cover
The people in white spell out RIP (Rest In Peace)
Song Clues
I Am The Walrus-"Bury me, bury me, bury my body", "Oh untimely death"- These spoken quotes from a Shakespearean play are at the end of the song. Paul died suddenly and now he is buried.
Hello, Goodbye-"You say stop, and I say go, go go"- Paul didn't stop for the red light, he went and crashed. "You say goodbye, and I say hello"- The Beatles are saying goodbye to Paul and hello to Willaim. "Why, why, why, why, why, why do you say goodbye, goodbye"- They're asking why Paul had to leave.
All You Need Is Love-"Yes he's dead" John says this at the end of the song, confirming Paul's death. "We loved you yeah, yeah, yeah"-The Beatles loved Paul, but now he's gone.
The Beatles (the White Album)
Booklet Clues
Page 7-In Paul's picture, it seems as though skeletal hands are reaching for him.






Page 14-Paul has a scar on his lip. But in real life Paul didn't have a scar on his lip. William Campbell did.
Page 18-In George's picture, there is a small photo of William Campbell before the surgery
Song Clues
Glass Onion-"I told you 'bout the walrus and me man, you know that we're as close as can be man, well here's another clue for you all, the walrus was Paul"-John and Paul were close until he died. The walrus on the Magical Mystery Tour cover was black, a symbol of death, and this stood for Paul being dead.
While My Guitar Gently Weeps-"Paul, Paul, Paul, Paul"-At the end of the song. George is crying out for Paul.
I'm So Tired-John mumbles something at the end of the song. Played foward, this just sounds like nothing. But when this part is played backwards, it sounds like "Paul is dead man, miss him, miss him".
Don't Pass Me By-"You were in a car crash"-Another reference to the accident.
Revolution 9-When the "Number nine, number nine, number nine" part is played backwards, it sounds like "Turn me on dead man".
Abbey Road
Front Cover
The Beatles are crossing the street in what appears to be a funeral procession. John in white represents the minister, or God. Ringo, in a suit, represents a pallbearer or mourner. Paul, in baggy clothes and without shoes, is the corpse and George, in dirty work clothes, is the gravedigger.
Paul is out of step with the other Beatles, as if he doesn't belong with them anymore.
Paul's eyes are closed to signify being dead.
Paul is holding a cigarette with his right hand, but Paul was left handed.
The license plate on the car on the left side reads "LMW 28IF". The LMW stands for Linda McCartney weeps. At the time Abbey Road came out Paul would have been 28 but only "IF" he had lived.





There is a police van parked on the right side of the road. This is the type of van that is usually sent to the scenes of bad traffic accidents.
A car appears to be headed directly at Paul.
Back Cover
The dots, when connected, form a 3.
There is a white skull in the picture.
On the right edge is the picture of a woman, Rita.
There is a crack through the letters that spell out "Beatles"
Song Clues
Come Together-"Come together, right now, over me"-they are gathered over Paul's grave. "One and One and One is Three"-The three Beatles.
Golden Slumbers-"Once there was a way, to get back home"-Paul can't come back anymore. "Golden slumbers fill your eyes"-Paul has died and went to heaven.
She Came In Through The Bathroom Window-"So I quit the police department, and got myself a steady job"-William Campbell had been a police officer, but he got a better job, as a Beatle
When all these clues are combined together, it does seem like there could have been some truth to the rumor. But gradually it died out. Still, we'll never know why all the clues were there. Was it intentional by the Beatles, or purely a coincidence? Whatever it was, it is interesting to think about.
Back To Index